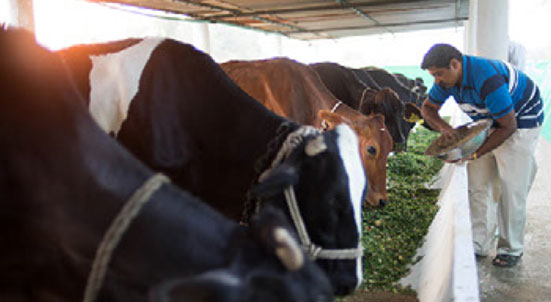 At the new nutrition manufacturing plant we're building in Jhagadia, India, we have set a goal to source 80 percent of the ingredients used in our products locally.
A WIN-WIN STRATEGY
This year, Abbott is building a nutrition manufacturing plant in Jhagadia to make our full line of nutritional products for India. By sourcing ingredients locally, we benefit consumers, our suppliers and our business, and build stronger communities in India.
At Abbott, local sourcing is an important part of building a more inclusive business and expanding the positive impact we have in communities in India and around the world. Through local sourcing, customers can access high-quality products; local suppliers gain a trusted partner and expertise to help them grow their businesses; and Abbott gains high-quality, cost-efficient ingredients to manufacture our products locally.
To reach our 80 percent goal in India, we are building relationships with local suppliers, including dairy farmers. Working in close partnership, we are sharing our technical expertise and resources to upgrade supplier capabilities and enhance quality testing and safety initiatives. One example: we are sharing best practices in veterinary care and improved feed supplies with dairy farmers, which will help to upgrade their production capabilities and ensure they meet our stringent quality standards.
The more high-quality, low-cost ingredients Abbott sources locally, the more we can increase local production as demand rises for our products, which in turn creates greater demand for our suppliers. By investing locally, we build local suppliers' ability to grow their businesses and create jobs, strengthen local economies and raise the quality and safety of dairy in India.