In India, diabetes and other chronic diseases that require life-long management are on the rise. The problem is especially acute in rural areas.
BRINGING CARE TO THE PATIENT
To help bridge the gap in rural care, where people may not have convenient access to doctors, nurses and clinics, Abbott is working with the non-profit Health4 All Neerog Nidhee (H4ANN) to bring effective diabetes care to remote areas in India. Using our products, resources and experience, and H4ANN's expertise in bringing services directly to rural consumers, we are working together to create a model diabetes program in rural Batindha, Punjab.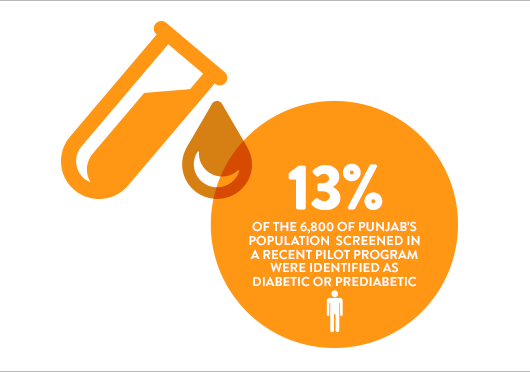 H4ANN and its sister organization, Healthpoint Services, have already pioneered the use of technology to deliver clean water and basic healthcare to families in small villages in India where doctors rarely visit. Abbott also supported earlier work in Kenya to advance mobile health in partnership with the nonprofit AMPATH. In villages in Kenya, AMPATH sent healthcare workers from home to home, where they screened for diabetes, HIV and more, and then used handheld technology for recordkeeping.
By applying shared expertise and experiences, Abbott and H4ANN are working to create a rural healthcare model in India that is sustainable for the long term – by making the delivery of medicines, devices and services consistent and economically viable for patients, as well as for healthcare providers and local companies.
PILOT PROGRAM
As a first step in the broader initiative, a pilot diabetes screening program was implemented in Punjab. H4ANN employees with basic healthcare training screened 6,800 people for diabetes, traveling door-to-door and recording findings on digital tablets. Some 900 people were identified as diabetic or pre-diabetic through the pilot program.
Abbott and H4ANN are now working to partner with leading healthcare providers who will connect rural patients to well-qualified physicians who can help them manage their diabetes – creating a model that will provide effective, convenient long-term care.